Argyll Classic - 29 March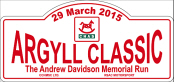 As well as choosing some new roads we are also including a drive up the Rest and be Thankful, paying tribute to the late Andrew Davidson, who was the mastermind in opening up the hillclimb through Glen Croe to classic car enthusiasts. Our friends at Lomond Shores, Balloch will host the start. [more]


NESCRO 2014 Calendar

Events in the 2014 North of England and Scotland Classic Rallying Organisation Calendar are now available here
Events Calendar
This column will publicise other motorsport events around Scotland, and northern England. If you would like your event featured here then email details to
Jim Paterson@btinternet.com

With origins going back to 1928, Hawick and Border Car Club provide a range of motor sport activities across the border region. Autotest, navigational, classic and stage rallies form the core events. If you would like to join the club download an Application Form, now.
Member of the NESCRO group of Car Clubs

David Bogie Wins Border Counties Rally 2015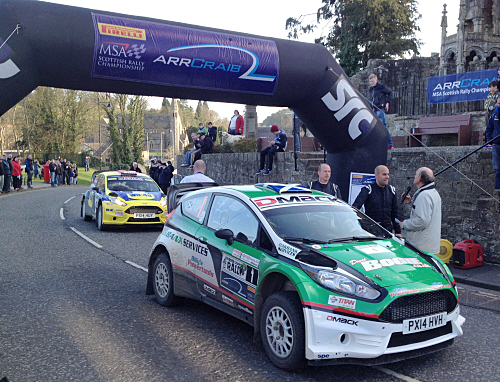 David Bogie interviewed at the winners arch, with Kevin Rae to his right

David Bogie with HBCC member Kevin Rae at his side took an overwhelming win on the 2015 border Counties Rally on March 21st. The sun shone on the crews as they challenged six stages in the 'all Scotland' stage event. The stages were not without their issues with some very slippy and damp to keep the crews on their toes.
www.bordercountiesrally.co.uk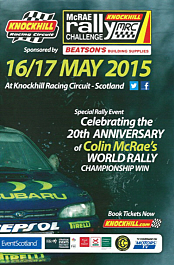 The Rally McRae Challenge - 16/17 May
CThe McRae Rally Challenge is a 30 mile, two day rally spectacular primarily celebrating the 20th anniversary of Colin McRae winning the World Rally Championship. Fully backed by all the McRae family, Jimmy McRae is helping on the organsing committee to bring together rally stars of the past, the present and the future, showcasing all the best eras of rallysport in the UK.
Featuring a full MSA single venue rally with a 45 car entry list with key names being asked to attend and enter. Confirmed are Jimmy McRae, Alister McRae (flying back from Austrailia), BTCC star Gordon Shedden and drivers being approached include Ari Vatanen, and Kris Meeke amongst others. [more]

Closed road motor sport steps closer to reality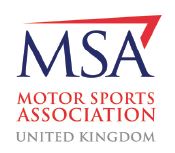 In a huge boost for British motor sports, new primary legislation facilitating closed road-events on mainland Britain has been approved by the government.
The Deregulation Bill achieved Royal Assent on Thursday 26 March. It contains a framework for running motor sports on closed public roads without needing a costly Act of Parliament to suspend the Road Traffic Act for each event. [more]

Flying Scotsman - 18/19 April. Marshals wanted

Bob Hargreaves of Endurance Rally Association is looking for marshal's to man a test in the Kelso area on Saturday 18th and another test run twice on the outskirts of Edinburgh on Saturday afternoon and early Sunday morning.
The Flying Scotsman Rally is for pre-1941 vehicles, starting from Oulton Hall, Leeds and finishing two days later at Gleneagles with overnight halts at Newcastle and Edinburgh. The event uses regularity and time control sections together with tests on private land to find an overall winner. All manner of marshalling experience is needed and He can usually find a point for the most inexperienced marshal. At the moment it is these tests that he is finding difficult to man, so any assistance will be gratefully received.
bob.hargreaves@btinternet.com
Tel 01229 587777 Mob 07742 313602 [
more
]

March 2015 Edition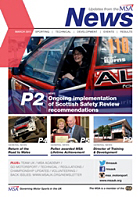 We are pleased to send you MSA News, March 2015.
Among the contents this month you will find:

• Ongoing implementation of Scottish Safety Review recommendations
• Return of the Road to Wales
• Len Pullen receives MSA Lifetime Achievement Award
• MSA to introduce second rally radio frequency
• Appointments: Director of Training & Development.

To read the newsletter online, please click here.
For a print-friendly PDF version that you can save to your computer, please click he
re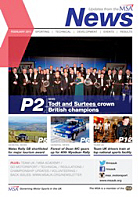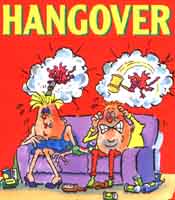 Hangover Autotest - 2 January
Sixteen entries turned out for the 2015 running of the Hangover autotest on Friday 2nd January. This annual event offers a great opportunity to blow away the festive over indulgences and have a bit of fun st the same time. Gareth White took top prize in his Toyota Starlet, with his co-driver Craig Forsyth taking second place on his turn to drive. [
Full Story and Results
]

Updated 27 March 2015
Webmaster - Jim Paterson