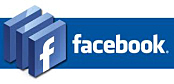 Follow HBCC on Facebook. simply press the logo above.

Features



NESCRO 2014 Calendar

Events in the 2014 North of England and Scotland Classic Rallying Organisation Calendar are now available here
Events Calendar
This column will publicise other motorsport events around Scotland, and northern England. If you would like your event featured here then email details to
Jim Paterson@btinternet.com

With origins going back to 1928, Hawick and Border Car Club provide a range of motor sport activities across the border region. Autotest, navigational, classic and stage rallies form the core events. If you would like to join the club download an Application Form, now.
Member of the NESCRO group of Car Clubs

Steve Bannister celebration
HBCC member Steve Bannister celebrated 40 years of rallying with a party at his local, the Blue Bell in Weaverthorpe on Saturday. 80 friends, relatives and fellow competitors enjoyed great food, company and craic long into the wee sma' hours. 12 former and current navigators exchanged tales of big wins, big accidents and bigger kahunas than any other driver they knew. The toast was proposed by Andy Elliot and amongst the many congratulations was a card and gift from Ari Vatanen.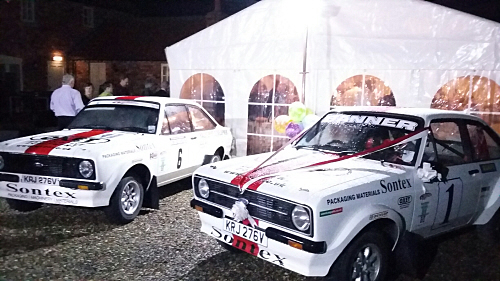 At this weekend's SRC awards dinner in Glasgow Steve will receive his 10th 2wd championship trophy and another late night is guaranteed!

Jim Clark Rally - Marshal's News No 1 (Download your copy here)

Marshal's news one, for the 2016 Jim Clark Rally. This year sees the event taking place over the weekend of June 4th – June 5th, based out of Springwood Park in Kelso.
In order to make the event happen, we need marshals. (Lots of them!) Initially Lindsay Burnip is looking for marshals in all disciplines; timing, in-stage, sector, radio. In short everything!
If you are able to help I would love to hear from you. You can register on-line at www.jimclarkrally.org and you can email me using Lindsay.Burnip@jimclarkrally.org .


No closed roads for Jim Clark Rally in 2016
Hopes that the Jim clark Rally would return to closed roads around Duns in 2016 have been dashed. The organisers have announced that they will again run a forest based stage rally next year. The hopes have been delayed due to ongoing investigations with a ruling from the Lord Advocate's office not expected until sometime in 2016. Full Story

SACC November Newsletter

The latest Scottish Association of Car Club's, of which HBCC is a member, newsletter is now available. Calendar of forthcoming events, news reports, GoMotorsport activities, Club and Marshalling News.
Download your copy here [SACC November Newsletter]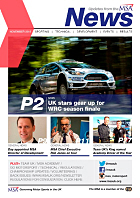 MSA News - November 2015 Edition

We are pleased to bring you MSA News, November 2015.

Read the newsletter online, click here.
For a print-friendly PDF version that you can save to your computer, please click here

Updated 23 November 2015
Webmaster - Jim Paterson